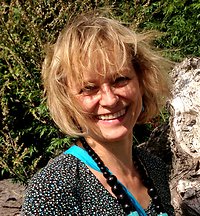 This is bodytribe therapies - welcome to my website
Hello. My name is
Corinna Javitz
and I have been a therapist in private practice in London for over 35 years.
I offer
Deep Tissue Massage, Pregnancy Massage, Reflexology, Pregnancy Reflexology, Vertical Reflexology, Tsuboki Japanese Face Massage and Neuroflexology
from my home in Hammersmith.
My clients usually come to my house for their treatments, but in exceptional circumstances I will do a local home visit if I have the time.
Please peruse my website and contact me if you have any questions or to discuss treatments.
Please have a look at the Neuroflexology page. This relatively new therapy can have a powerful effect on your health, especially if you are in pain or have sleeping problems. It is definitely worth trying!
Who are my clients?
The most peaceful room in my house is set aside for my clients, whose ages range from 10 days old to 85 years, both men and women. I treat women with fertility issues as well as pregnant women, babies with colic, teenagers with exam pressures, desk-bound professionals with back problems and active sportsmen as well as many people just in need of stress relief and relaxation. A lot of my clients are local from the Hammersmith, Chiswick, Acton and Shepherds Bush area, but many come from further afield than West London.
Therapies in West London
My Reflexology, Deep Tissue Massage and Japanese Face Massage practice is based in
Hammersmith
(W12), which is within easy reach of
Chiswick and Bedford Park
(W4),
Acton
(W3),
Ravenscourt Park
(W6), and
Shepherds Bush
(W6).
It is usually easy to park outside my house, as it is in a mixed zone for residents and visitors. However, it is very expensive to park in my street with Ringo these days. I can park your car on my visitors' permit for £1.80 per hour. I just need your registration details. Bus stops for the 218 and 306 from Hammersmith Broadway, and the 94 and 237 from Shepherds Bush are nearby, and the walk from Ravenscourt Park, Stamford Brook and Goldhawk Road Tube stations respectively is about 15 minutes.
About me
I started my practice in Chiswick in the mid eighties, and have been working as a reflexologist in Hammersmith, West London for over 35 years. After my
Reflexology
training in 1986 with the International Institute of Reflexologists I worked part time at the Brackenbury Natural Health Centre as well as from home. In 1992 I studied
Massage
and subsequently took further training in
Deep Tissue Massage
techniques.
Manual Lymph Drainage (MLD)
, courses in
Pregnancy Reflexology, Vertical Reflex Therapy (VRT), Indian Head Massage and Reiki
followed. I use the
Advanced Reflexology Techniques (ART)
in which discipline I was awarded an Honorary Fellowship in September 2010. I am also qualified in
Tsuboki Japanese Face Massage
and
Neuroflexology
. In addition I use various mobilisation techniques and show my clients how to free a stiff neck or a frozen shoulder.
I have been awarded lifetime membership of the Association of Reflexologists and am fully insured.
GDPR Statement: My clients' contact details and treatment notes will be kept safe and not passed on to third parties.